Lauren Haack, PhD
Dr. Haack, director of the STRIVE lab and associate professor in the UCSF Department of Psychiatry and Behavioral Sciences (DPBS), is a licensed clinical psychologist with interests focused on 1) cultural influences to mental health conceptualization, assessment, and treatment, 2) accessible and culturally attuned evidence-based services for traditionally underserved youth and families worldwide, and 3) behavioral health provider experience, training, and consultation. Dr. Haack is involved in several current clinical research efforts, including projects funded by the National Institute of Mental Health (NIMH), the National Institute of Health Fogarty International Center (NIH-FIC), and the Hellman Fellows family foundation focused on digital solutions to improving family access to and engagement in psychosocial treatment for ADHD. When not conducting clinical research and teaching, Dr. Haack provides instruction and consultation/supervision on various UCSF DPBS teams, including the Child and Adolescent Psychiatry Fellowship Program, the Juvenile Justice Behavioral Health team, the Multicultural Psychology Training Program, and the Child and Adolescent Psychiatry Portal. She is a member of the UCSF DPBS Diversity Committee. 
Read more about Dr. Haack and access her publications here. 
Eva Angelina Araujo Jiménez, PhD   
Dr. Araujo is a Full Time Research Professor on the Faculty of Psychology at the Autonomous University of Sinaloa (UAS); she also is the Director and Founder of the NENS Child Psychological Attention Center. She has a PhD in Clinical and Health Psychology, specializing in Childhood and Adolescence, and a Master of Science degree in Research of Child Clinical Psychology, from the Autonomous University of Barcelona, ​​Spain. She also has a Specialty in Cognitive Rehabilitation from the Higher Institute of Psychological Studies, in Barcelona, ​​Spain. Dr. Araujo completed a post-doctorate fellowship in Clinical Psychology specializing in Attention and Behavior problems in childhood at the University of California, San Francisco (UCSF). She holds a Degree in Psychology from the Autonomous University of Sinaloa. She is a Member of the National System of Researchers of the National Council of Science and Technology (CONACyT), as Level I, and of the Sinaloan System of Researchers and Technologists as Honorary Researcher. She is a member of the Durango Network of Educational Researchers, A.C. and is an Associate Editor of the Spanish Journal, Quaderns de Psicología, in charge of North America in the area of ​​Clinical Psychology. She is the leader of the Academic Body "Learning in the Profession and Technological Change", of the Autonomous University of Sinaloa. She is the author of various book chapters and scientific articles in high impact international journals in the investigation of Child Clinical Psychology, specialized in Attention Problems, Behavior, Asperger's Syndrome and Autism. She has given professional presentations at national and international conferences.
Maria Elena Urquidez Valdez, PhD
Dr. Valdez was born in Culiacán, Sinaloa. She has a degree in Special Education from the Escuela Normal de Especialización del Estado de Sinaloa (ENEES) and has a Master's and Doctorate in Special Education with an emphasis on Diversity and Inclusion from the ENEES. She has 31 years of experience at the service of the Ministry of Public Education in the modality of Special Education. Her educational work began in 1990, in the city of Guasave, Sinaloa, where she founded the Center for Psychopedagogical Attention for Preschool Education. She later went on to Culicán, Sinaloa to serve as a Multiple Stimulation teacher and later as Psychopedagogical Technical Support for 15 years in school zone 017 of Special Education. She is currently the Director of the Regular Education Support Service Unit (USAER) # 132, belonging to school zone 034 of Special Education in the city of Culiacán, Sinaloa. She has participated in various investigations in the educational field, including those related to Memory and Down Syndrome, as well as those related to Attention and Behavior in recent years.
Lic. Dulce Karely Alcaraz Beltrán
Ms. Alcaraz Beltrán obtained her Degree in Psychology from the Autonomous University of Sinaloa (UAS) and her research degree with a thesis entitled "Symptoms of Asperger's Syndrome and deficits in Executive Function in preschool children." She was a collaborator of the Academic Body "Learning in the Profession and Technological Change" of the Faculty of Psychology of the UAS, as well as a research coordinator for the "School-Home Program for Spanish-speaking Children with Attention and Behavior Concerns" and "Assesing & Improving Mental Health in Mexico & Mexican-American Youth via School-Home Intervention" collaborations between the UAS School of Psychology and the University of California, San Francisco (UCSF). She has worked as a therapist in the "Nens ​​Center for Child Psychological Care." She is currently concluding her studies for a Master's Degree in Research in Psychology Applied to Education at the Institute of Psychology and Education of the Veracruzana University, where she works on the topic "Educational inclusion in Mexico: Reality from the experience of classroom teachers primary education ".
MC Evelyn Clarissa Zúñiga Rivera
Ms. Zúñiga Rivera received her M.S. in Social Work with accentuation in health systems at the Autonomous University of Sinaloa (UAS). She is currently a professor in Social Work at UAS and has been involved in research since she completed a collaborative program at the hospital (ISSSTE) were she applied crisis intervention with patients and relatives. She then continued with a summer research intensive in a sociocultural study of the influence of movies, followed by a thesis about the executive functions with children with ADHD and SCT, and a subequent summer research intensive with patients with depression and impaired and executive functioning. She continued researching about ADHD in children and their families with her master thesis: "Psychosocial approximation to the families with a children with ADHD", in which she had the experience at Universidad Iberoamericana for two months and taking lessons such as Selected Themes in Psychology, Research Methodology (qualitative approach). She then wrote in collaboration a book chapter about emerging social groups and families in the field of social intervention. Her research interests are related to the assessment, diagnosis, treatment and integral studies of people with Attention-Deficit/Hyperactivity Disorder, their families, the environment, and their contexts. She is interested in multidisciplinary studies with multi-informants and also in collaborative work.
Psic. María Fernanda Arriaga Guerrero
Ms. Arriaga Guerrero received her Degree in Psychology with an emphasis in Education from the Autonomous University of Sinaloa (UAS). She is currently a Child Clinical Psychologist at the NENS Child Psychological Attention Center. Her clinical and research interests focus on childhood mental health, attention and behavior problems in boys and girls, and intervention programs for boys and girls with attention and behavior problems
Profa. Dulce Maria Ledesma Saldaña
Dulce María Ledesma Saldaña was born in Culiacán Sinaloa and carried out her professional studies at the Escuela Normal de Especialización del Estado de Sinaloa where she acquired the title of Lic. Comprehensive Special Education in 2007. She began her teaching intervention as a group leader in 2008 and subsequently joined the area of Special Education where she has 12 years of service. She currently works as a support teacher in USAER 88 of Zone 14 of Special Education Sector II, of the SEP, where she has carried out various activities in favor of the Educational Inclusion of students who Face Barriers to Learning and Participation. Her interest in improving as a teacher has led her to take courses and workshops, including: "Update on ADHD: Comorbidities and over-diagnoses",  "Let's talk about ADHD",  "Understanding my student with Autism: Strategies for the classroom "," The role of the Shadow teacher in Autism "and " Comprehensive educational care for children with ADHD in times of pandemic ", to name a few. She has participated in the application of the CLS-FUERTE program since 2016 and has continued with the training of next generation of CLS-FUERTE providers. She describes that this experience fills her with pride and she hopes to continue contributing in the homes of Sinaloan and Mexican families.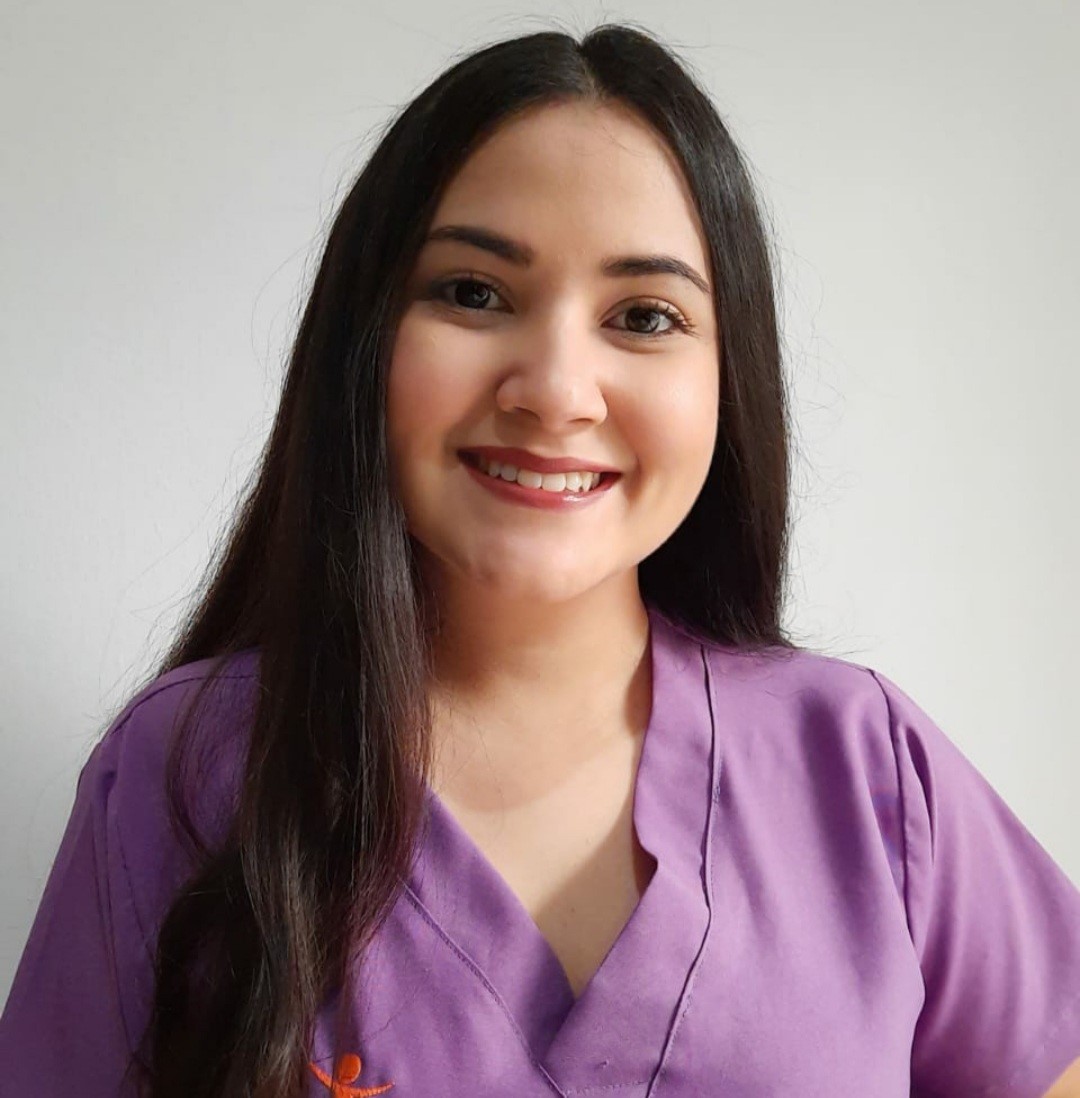 Profa. Korinthya Delgado García
Korintia Delgado García obtained her Degree in Special Education with a focus on intellectual functioning in 2016 from the Escuela Normal de Especialización del Estado de Sinaloa. She has since enhanced her professional development as a support teacher in various schools in Culiacán belonging to the SEP. She has taken several courses and obtained diplomas, including those in therapy for the reinforcement of attention skills, reading, executive functions, language and communication. She has implemented the CLS-FUERTE program three times, once in a rural context. She currently works as a primary level support teacher in the Potrero de Sataya community and as a speech therapist at the NENS child psychological care center.
Jasmine Lai, BA
Jasmine Lai is the clinical research coordinator for the UCSF Hyperactivity and Learning Problems (HALP) Program. She received her BA in psychology and linguistics from the University of California, Berkeley. Jasmine is involved in coordinating several current clinical research protocols, including projects funded by the National Institute of Mental Health (NIMH) and the Institute of Education Science (IES). She is broadly interested in the relationships between language, cultural identity, and developmental psychopathology.
Elva C. Moreno, BSBA
Elva earned a Bachelor of Science in Business Administration while majoring in Management Information Systems (MIS) at the University of Arizona in December 1999. She has accumulated experience in diverse organizations and enhanced her professional development with several certificates and courses, such as earning a band 8 result in the IELTS exam in 2010, a Project Management course based on PMI in 2010, a couple of workshops about Teaching English for Specific Purposes in 2009 and 2010, a Teacher's Training course in 2002 and a computer networking course in 2000. During her stay in the private sector in Culiacan in 2001 she sold, trained and provided on-site and phone tech support for an IT tool that allowed companies to comply with Social Security regulations about keeping employees' salary and wages information updated. While in the public sector, she worked for the Sinaloa's State Government from 2002 to 2006 and held different positions at the Internet and IT Help Desk departments. For the period of May thru September, 2003, she was part of the organizing committee of the Annual Meeting of the IT Board in the Municipal, State and Federal Governments (CIAPEM), which was hosted by the Government of the State of Sinaloa. Currently, she is an Associate Professor at the College of Informatics at the Universidad Autónoma de Sinaloa (UAS) where she has developed syllabus and class materials for different courses taught by her for the past 16 years, such as IT Entrepreneurship, Software Project Management, English for IT Students and IT Department Management, among others. In 2018, she participated as a speaker at the 22nd International Language Fair organized by the Universidad de Guadalajara in which she shared some of the challenges and opportunities while teaching English for Specific Purposes in an Informatics Undergraduate Program at a Mexican Public University.
Jassiel U. Martinez, BSc IT
Jassiel earned a Bachelor of Science Degree in Information Technology from the Universidad Autónoma de Sinaloa (UAS) in July 2021. As an undergraduate student he was part of the governing council at the Informatics College in which Professors and Students are equally represented and also helped organize academic, cultural and sports events. He volunteered as a peer mentor in math, programming and networking courses during 3 years. In his junior year, he took part in a national study abroad program at the College of Engineering in the Universidad Autónoma de Baja California in Mexicali. Jassiel's experience includes administrating national learning assessment standardized tests to 6th, 9th and 12th grade students in 2017 and 2018. He also worked for the private sector in 2021 at Coppel (an 81-year nationwide
department store in México based in Culiacán) as an 2nd level support analyst and developer helping all departments across the 1,200+ stores in México. Since his days as a college student, Jassiel has been keen about his professional development by taking part in entrepreneurship workshops offered jointly by UAS and the National Institute of Entrepreneurs in 2016, an intensive English course from 2016 to 2019, and a financial education workshop by the National Commission for the Protection and Defense of Users of Financial Services. Some of his IT extracurricular professional development activities include courses on Introductory Web Development by Google Active in July 2020, as well as an Introduction to Cybersecurity course from CISCO Networking Academy in November 2020. He has intermediate knowledge in programming languages such as C#, C, PHP, HTML, CSS and Python as well as in RDBMS like Microsoft SQL Server, MySql and PostgreSQL.
STRIVE Lab Photo Gallery